Inductotherm Industries (Shanghai) Ltd.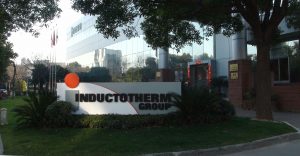 Inductotherm Industries (Shanghai) Ltd. facility in Shanghai is a part of Inductotherm Group USA.Registered place: 50 Guoshoujing Road, Zhangjiang Hi-tech Park, Pudong Shanghai.
Inductotherm Industries (Shanghai) Ltd was founded in October 1997 with the registered capital of USD 3,100,000 and total investment of USD 5,000,000.Construction area: 3717.46 M2; land occupation: 6600 M2Scope of business: Designing, manufacturing, repairing and sales of induction heating equipment, heat treating equipment, refining equipment and auxiliaries, tubular goods processing equipment and plastic heat processing equipment and auxiliaries.
Since their establishment, Inductotherm Industries (Shanghai) Ltd. has been achieving rapid development each year. With the expansion of Wuxi production capacity, the company has gradually transformed into a center of R&D, designing, engineering, and aftermarket service for the Chinese Market. The company has obtained a wide range of loyal customers and has taken the leading position in the heating equipment industry in China.
Inductotherm Group China has formed a strong technical team as well as a managerial team in Shanghai with 2 persons with doctorate degrees, 16 persons with masters degrees and some 152 persons with graduate degrees. Among them, technical personnel accounts for 68% of the total, while 18% are managerial personnel and 14% sales personnel.